How to build a Website that works!
If you don't know how to build a website or if you know but you don't have much traffic yet, you will learn how to build it, because it is important to think about traffic too.

Following just simple instructions, without any previous experience, this website reached the TOP 1% MOST VISITED Websites in the World!
(Certified by Alexa Rank)
In November 2011 Web Server Survey, was stated that there are over
525,998,433
sites,
172,000,000
are active websites.
(news.netcraft.com)
Out of this huge numbers,
lake-garda-italy.net
is in this position:
Short story:
in October 2008 i was searching the Net to find a way to put my passion for the Area where i'm born (Lake Garda) in to something that could became a business. I wanted to build a website, but i'm really zero in HTML language and all that stuff.
Plus i noticed that having a website is not enough, because if you want to be visible you need traffic (it is true for experts too).
There are two option: paying traffic (pay per clic, banners), or organic traffic (i prefer the second option, no expenses).
In November 2008 I finally came across something that made sense to me, a company with all the tools I would need to build my business one step at a time, block by block, for one uncomplicated yearly fee: Site Build It


What Is Site Build It (SBI)?
I think the best way to describe Site Build It! is to compare it to a college course in online business, where the class project is to actually create your own income-generating web site. You're provided with all the instruction, tools, and materials you need to succeed. Their suite of tools will handle the technical details for you, so you don't have to become a master web programmer. You don't even need to learn HTML or use an FTP program. Everything you need to do can be done via an online interface. If you wanted to, you could build an entire SBI site while working from a public library.
SBI teaches you to focus on income-generating activities while building your website. It helps you adopt the mindset of an entrepreneur, not merely someone who thinks it's cool to post their own content on the Internet. The whole point of SBI is for you to build a website that makes you money.
More than 20 universities now teach college courses with SBI, and even more courses are in the works. SBI gives schools a way to give their business students (such as those in an MBA program) real-world experience in building a functional online business without having to become a master web programmer.
How to build a website Video: Why?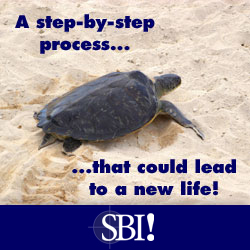 Return from How to build a website
to Lake Garda Italy Homepage